Claudia Wheeler, French Tutor Richmond London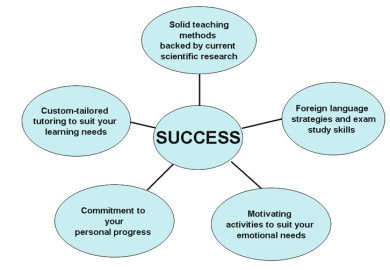 A Tutor with a Difference
Custom-tailored tutoring to suit your learning needs...
Every learner needs a different approach because, when it comes to learning a language, all of us have different preferences, as well as strengths and weaknesses.

Learning goals can also be very different.

We will talk through your particular case so that I can design the right tutoring programme for you, which will take your needs into account.
Solid teaching methods backed by current scientific research...
Very young learners: For children aged 5 to 10, tutoring will consist of lively game-like activities, building gradual fluency in a way that is structured, yet feels 'natural' to the children.

Teens and adults: The language teaching methods used at school often do a relatively good job of presenting new vocabulary, texts, and grammar in French/Spanish. They can also give you the impression that you are communicating in the foreign language. Unfortunately, these methods do not give enough repetitive practice, and you cannot often remember what you learned or use it automatically in 'real' situations. That's where I can help you!

You will learn key phrases and idiomatic expressions by heart and use them to express yourself and understand others better. Recent foreign language learning research shows that if you memorize lots and lots of key expressions, you won't need to follow (or understand!) rules. It also shows that you'll be able to remember and use those prefabricated chunks of language instantly!
Foreign language learning strategies and exam study skills...
What language learning strategies do you use? Less successful students often have ineffective foreign language learning strategies.

Take the Strategy Inventory for Language Learning (SILL) (click here to download) and find out! The SILL can be useful for making you discover new language learning strategies that might work better for you.

After completing the questionnaire, compute your results using the Worksheet for Answering and Scoring the Strategy Inventory for Language Learning (SILL) and Profile of Results (click here to download).


Are you preparing for GCSE or A-Level? As an experienced teacher and examiner at both levels, I will make sure that you achieve the best grade you can, and that your lessons are also enjoyable. I offer passionate and patient coaching to hone your skills in speaking, listening, reading and writing. I will also provide specific exam practice related to your particular examination syllabus.

The feedback will focus on the exact skills, habits and attitude you need to deal successfully with the exam questions or tasks. With this kind of tuition, you will be well-prepared for all the parts of your exam and face it with confidence!

You will learn study skills and strategies, such as:

Vocabulary learning strategies, such as the Keyword method, which is a great strategy for learning lots of words on your own really fast.
Active listening strategies, such as identifying key words.
Self-assessment, including goal setting.
Motivating activities to suit your emotional needs...
For example, tasks are made more motivating by:
having you repeat patterns or sentences at different speed, volume, or by expressing them with a different emotion,
asking you to add personal/imaginative/fantasy contents to basic exercises,
having you adapt a dialogue and perform it as a role-play,
disguising repetitive activities in games, songs or chants,
using special computer programmes, which contain exciting structured practice activities.
Commitment to your personal progress...
I am committed to effectively support your learning by:
giving clear explanations with reinforcement as needed,
helping you develop effective study skills and habits,
reviewing your progress regularly and giving you feedback and advice,
providing honest evaluations and statement of expectations.